Product Overview
Meet the Brow Trio: Stencil Kit
We are so excited for you to try our Brow Trio: Stencil Kit. This kit is a gamechanger. It was designed to guide you as you create your dream brow shape. It is perfect for those with thin to no brow hair. Ready to simplify your brow routine? Keep reading to learn all about this transformative kit, including application tips, color matching advice and tutorials.
What's included?
The kit includes 12 stencils options, waterproof and smudge-proof pomade and our signature sponge brush. 
12 Stencils : Kit comes with 4 regular arch, 4 low arch and 4 high arch options, so you'll always find your perfect brow shape. Stencil designs include a 2-in-1 length choice, so that whether you have a more lengthened brow, or a petite brow, we have you covered! Each stencil was created with thousands of brows in mind from experience in the permanent makeup industry.
Our brow stencils are reusable and made from recyclable material.

Pomade : Our 36-hour wear pomade is smooth, creamy, waterproof, smudge-proof and buildable. Pomade is beautifully blend-able until it dries. If used daily, each jar will last around 3 months.

Dual Ended Signature Sponge Brush : Apply and blend with one simple tool. Our perfectly bouncy, washable sponge brush (bye-bye bacteria!) is specialized to apply the perfect amount of pomade according to your desired density. It is small enough for a precise application.

Kit arrives in a pink vegan leather case.
How It Works
Watch our founder Briana use the Brow Trio® Stencil Kit to fill in and define her brow shape.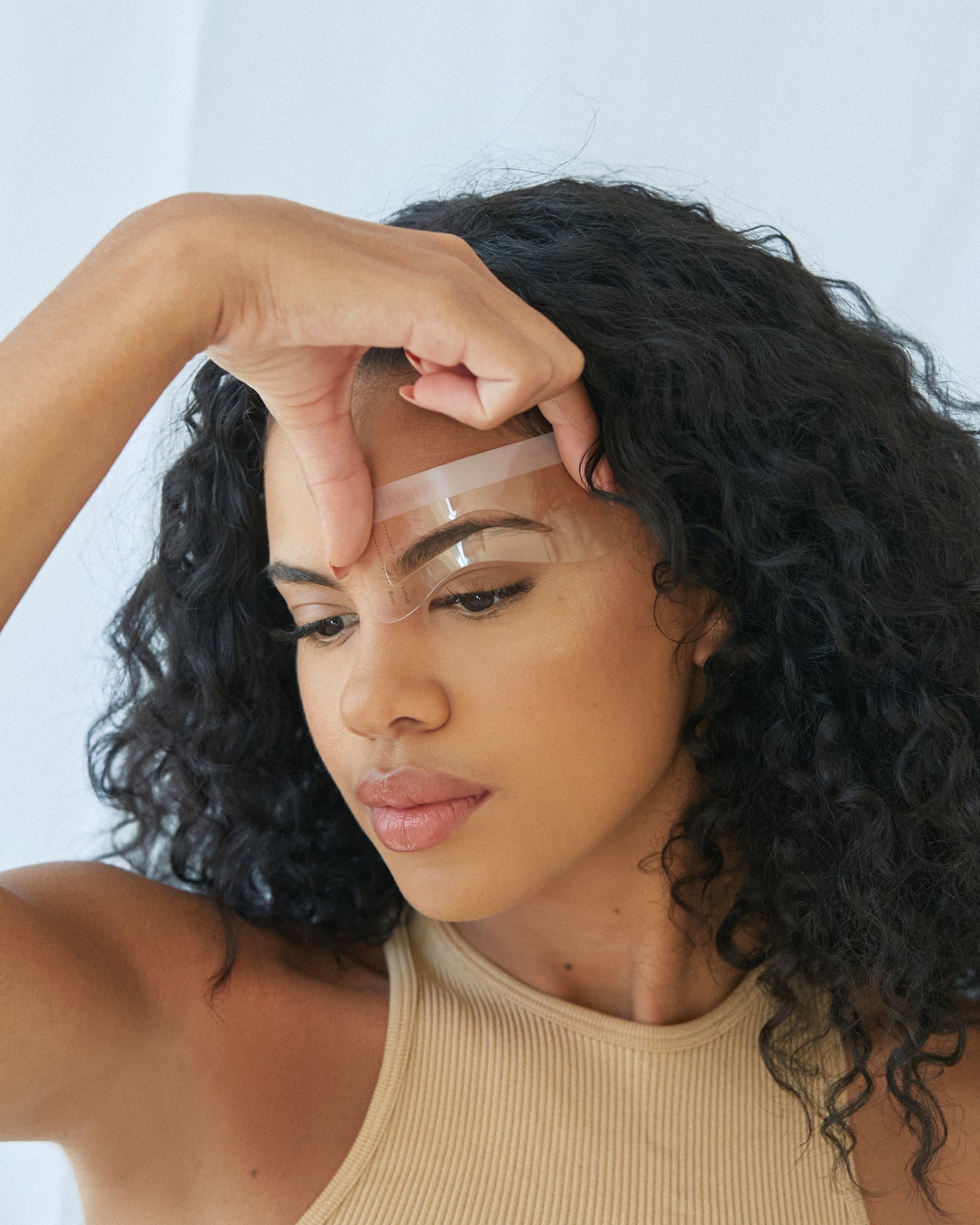 1. Start with the Stencil
Place the stencil on your brow using a widened two finger hold, using either the stencil's short or long length guide.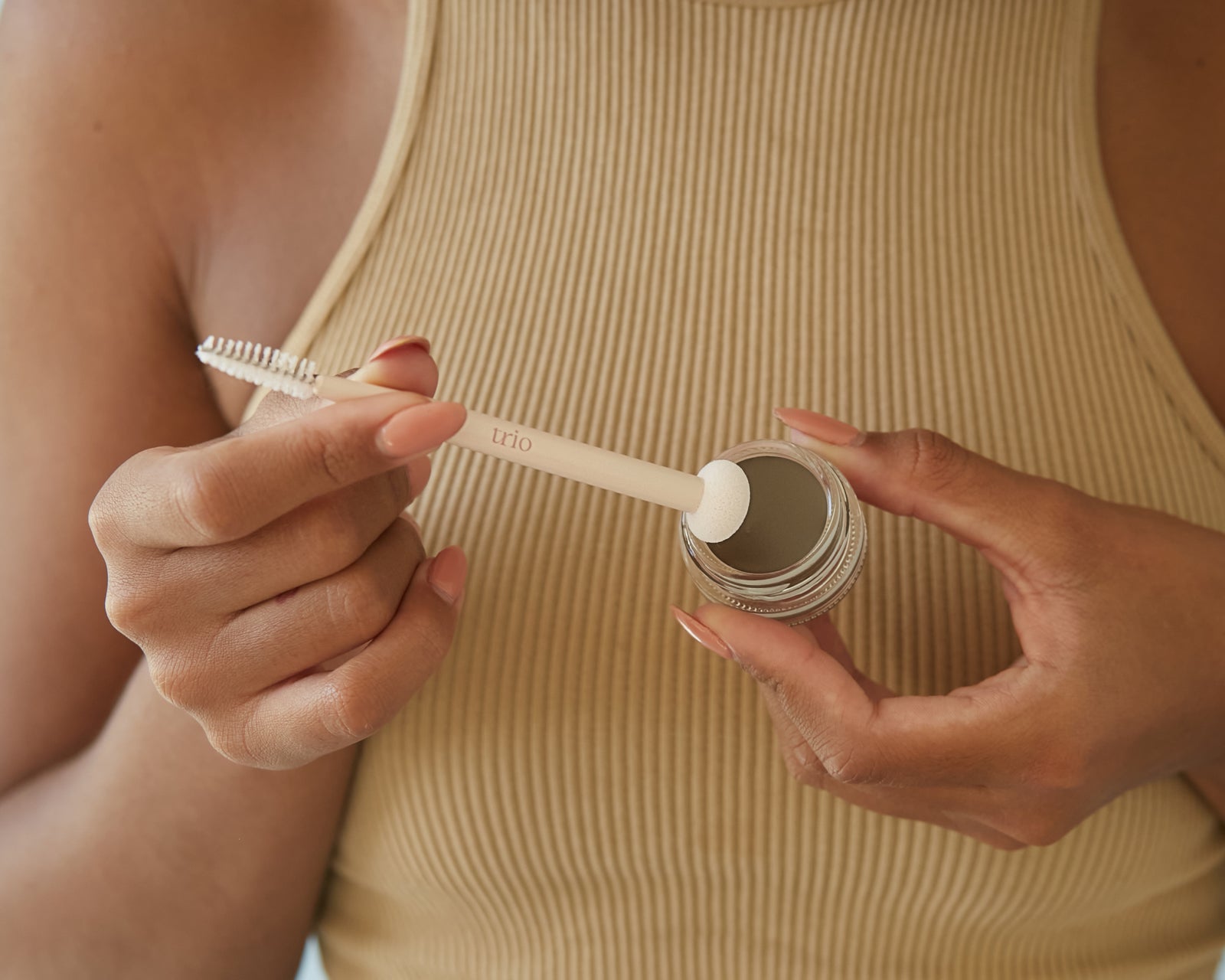 2. Pomade Time
Open your pomade jar and gently tap the sponge into the pomade. Tap the sponge into the lid of the pomade to remove any excess product.
Imporant note : We recommend cleaning your sponge brush weekly using our Sponge Brush Cleanser.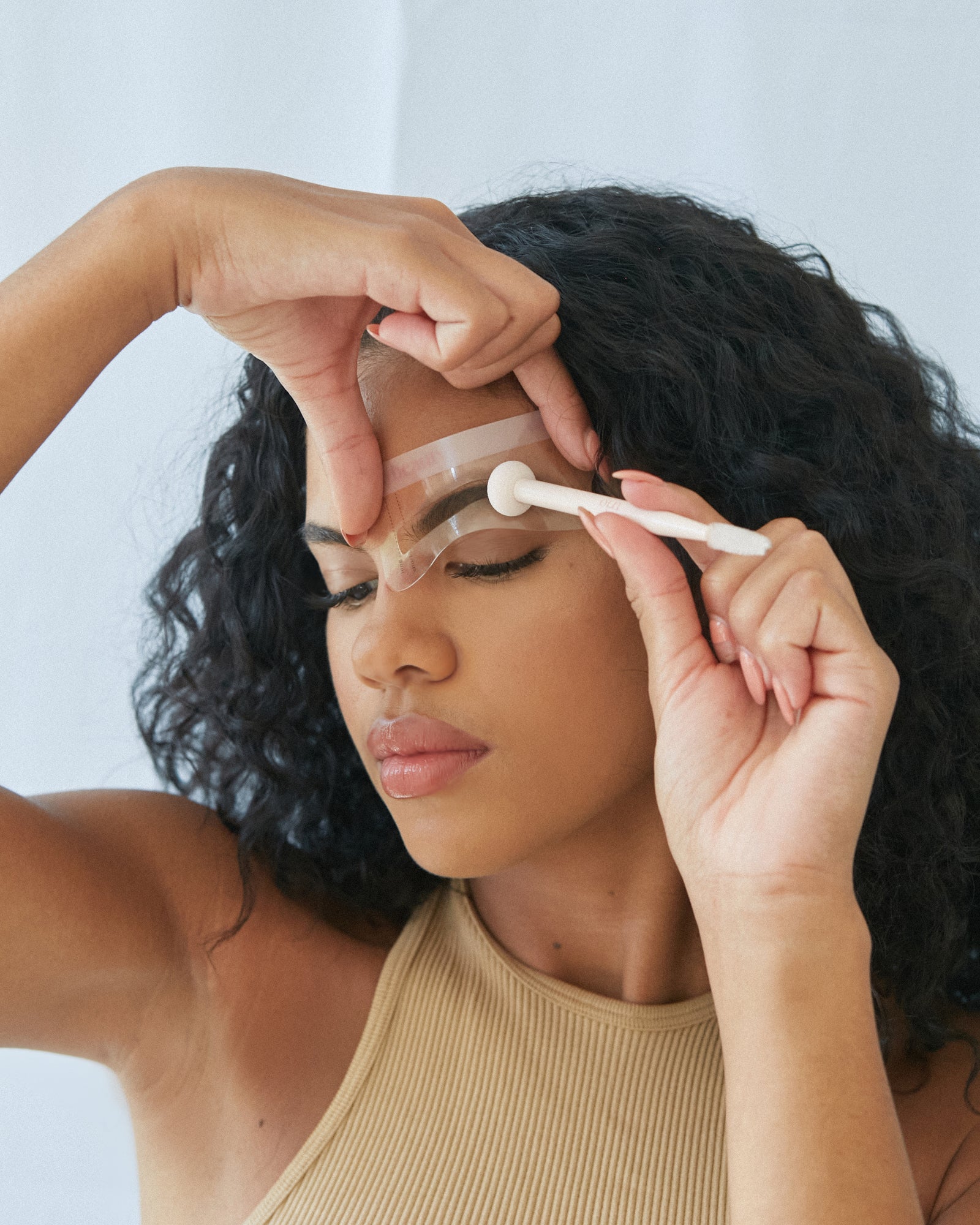 3. Tap, Tap, Tap
Apply pomade using a tapping motion starting at the tail of the brow.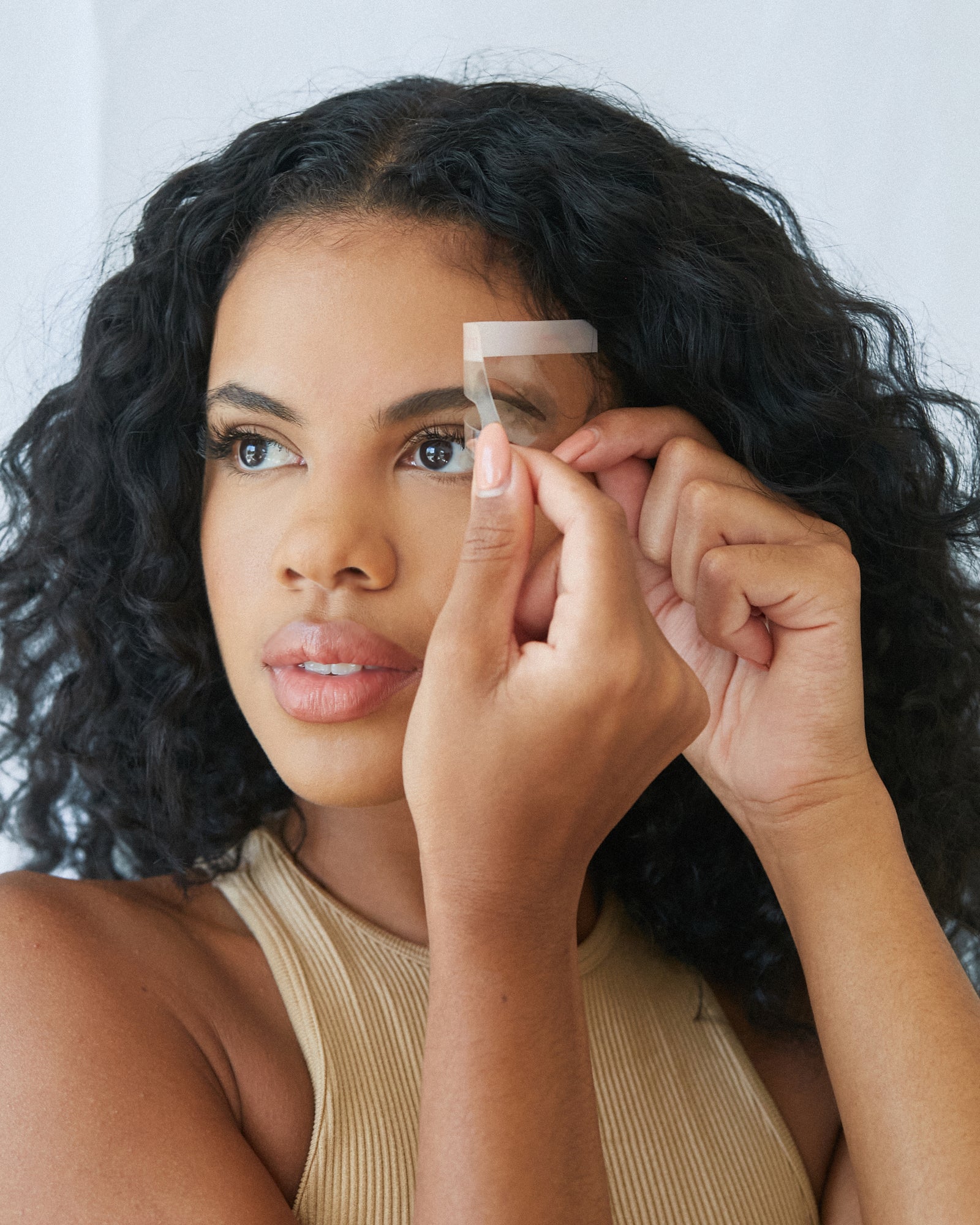 4. Remove the Stencil
Remove the stencil to reveal your finished brow. Wow, brow magic!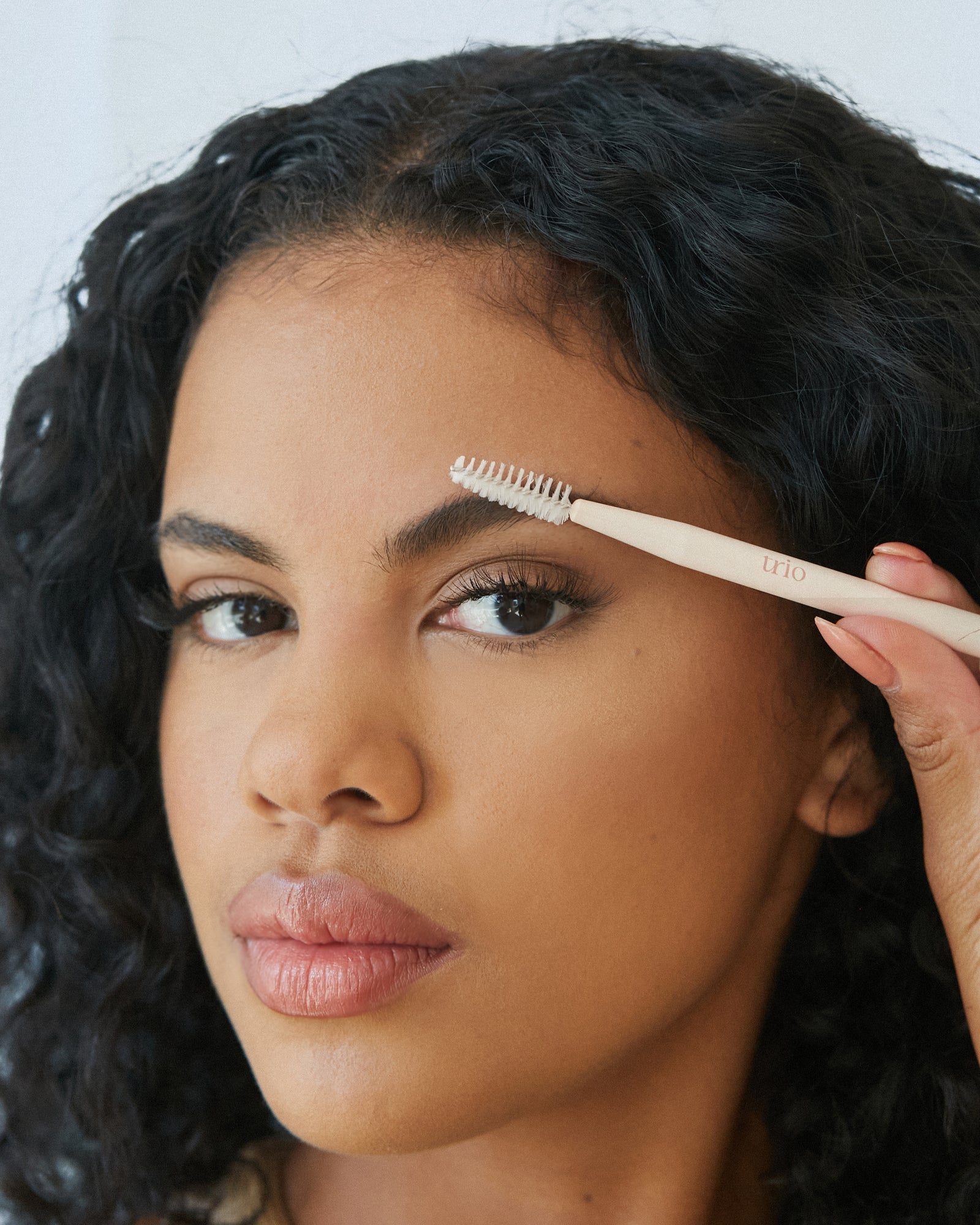 5. Don't Forget to Blend
Use the spoolie end of the sponge brush to blend the pomade (especially at the front of the eyebrow for a softer look).
Wipe stencil off and flip the stencil. Follow previous steps on the other brow.
The stencil that incorporates the most of your brow hair will be the correct one. If you have little to no brow hair, you can be more flexible with your stencil choice.

Not filling in the front with too much pomade, and blending the front is key to a natural looking filled in brow.
Please take our color match quiz located on our website. Alternatively, you can email a picture of your brows to info@triobeauty.com and one of our color match specialists can recommend a shade for you.

Sponge cleansing is advised weekly to avoid product buildup.

This can be done by running the sponge under water for 1 minute, adding a little soap, and pomade will flake from sponge. Our signature sponge cleanser is great for this, as it has a textured mat inside the lid to help remove pomade.
After applying pomade to one brow, turn the stencil on its side and line up the bottom of both brows with the stencil. Press the stencil into the skin lightly to create an indentation. This will create a guide of where to start the other eyebrow for a balanced look. View the tutorial here to see this tip in action.
Although the formula is waterproof and smudge proof, daily removal and application is advised.

After each side, wipe the pomade from the stencil with a tissue. If pomade has dried on the stencil, remove with a makeup wipe.
tutorial roundup
Instagram Tutorials